Windchill PLM Workgroup Manager for Revit
Integrate PTC Windchill with Revit to create a full product definition by improved collaboration, data management and reduced the chances of errors.
Collaborate with Revit data similar to Creo files via Windchill
Ability to store and interact with native Revit data using Windchill including the Revit parameters.
Integrate Revit parameters with ERP data using Windchill.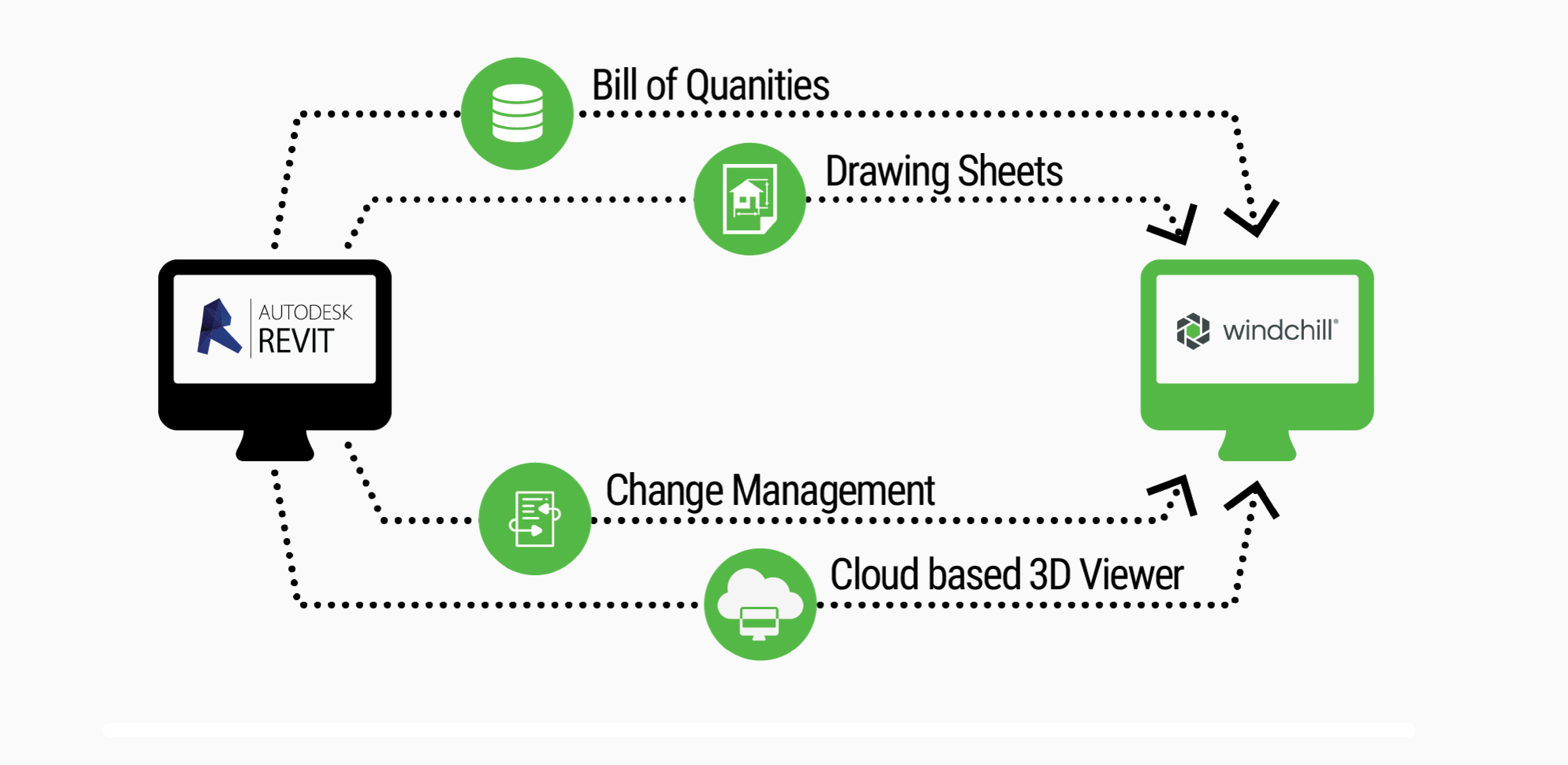 Features
Custom PDM tool inside Revit for integration with Windchill including revision management
Project level meta data information published inside Windchill.
Integrated web based viewer to Windchill with URL for each Revit project facilitating viewing of Revit projects from Windchill
Web based viewer has various functionalities like navigation, markup, model slicing, querying based on meta data, measurement, view configurations from native software
Project meta data based search can be done inside Windchill as well as in the viewer
BOM reporting inside Windchill
Get Free Trail for Windchill PLM Workgroup Manager
Free Trail
Upcoming BIMDeX Products
| Revit | SolidWorks | Sketchup | Rhino | Maya | Creo | Inventor |
| --- | --- | --- | --- | --- | --- | --- |
| Revit to SolidWorks | SolidWorks to Revit | Sketchup to Revit | Rhino to Revit | Maya to Revit | Creo to Revit | Inventor to Revit |
| Revit to Sketchup | SolidWorks to Rhino | Sketchup to SolidWorks | Rhino to SolidWorks | Maya to SolidWorks | Creo to Rhino | Inventor to Rhino |
| Revit to Rhino | SolidWorks to Sketchup | Sketchup to Rhino | Rhino to Sketchup | Maya to Rhino | Creo to Maya | Inventor to Maya |
| Revit to Maya | SolidWorks to Maya | Sketchup to Maya | Rhino to Maya | Maya to Sketchup | Creo to Sketchup | Inventor to SolidWorks |
| Revit to Creo | SolidWorks to Creo | Sketchup to Creo | Rhino to Creo | Maya to Creo | Creo to SolidWorks | Inventor to Creo |
| Revit to Tekla | SolidWorks to Tekla | Sketchup to Tekla | Rhino to Tekla | Maya to Tekla | Creo to Tekla | Inventor to Tekla |
| | | | | | | Inventor to Sketchup |